MICHELE KRAUS
Internship Field: Art
Major: History
Minor: Studio Art
Host: Galerie Jette Rudolph
Location: Berlin
Duration: June – September 2007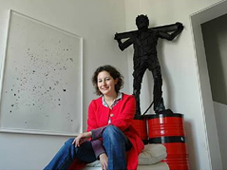 Description: The Love of Labor
This is my third arts internship and my second internship working for a business whose employees would happily work for free. Before returning to Berlin for the Krupp Internship I had worked at a nonprofit arts camp in Mountain View with the mission of providing arts for all, and at Christie's Fine Art Auction House, selling wildly overpriced art to the wealthy and fabulous. I wanted this to be my entry into the gallery world, the middle ground, where I could meet living, successful career artists and maybe go to their parties. My introduction to the Berlin arts "scene" was through the Galerie Jette Rudolph, a contemporary gallery in Berlin-Mitte known for supporting emerging artists and for a casual working atmosphere.
Unexpectedly, all summer I was having flashbacks not to my prior experience at commercial Christie's, but to my time at the arts camp, where my co-workers would constantly tell me they didn't mind the low pay because of how much they loved their work. My most significant contributions to the gallery were clearly due to my English fluency. I have translated press releases, helped artists write personal statements to apply for positions in the United States and corrected English texts. In addition, I have been working on creating artist portfolios for upcoming art fairs. The most exciting times to be an intern in the gallery were the weeks before new shows. Preparing the exhibitions meant working directly with the artists, helping them unpack and hang their artwork. For the last show, one of the paintings was so big it had to be stretched onto its frame inside the gallery. After years of museum going, it was very exciting to handle actual, real-life works of art. The Krupp Internship gave the gallery an extra hand that they could never have afforded, and gave me a job I wouldn't normally have been paid to do. Last week we went to Art Forum Berlin, an international art fair held every September in Berlin, and I proudly represented my gallery to a world audience.
The internship has been most valuable to me by situating me in Berlin's artistic center. I lived in an artist commune in Mitte, where I met people from all over the world whom I could never have met had I stayed on the Stanford campus. Because of the friends I have made at my house and in the gallery, I felt included in the Berlin art scene. Now that I have returned to the Bay Area, I only hope that I can find an arts community as welcoming and passionate as the one I am a part of in Berlin. A few Fridays ago, while listening to a rockabilly/country band at a party that seemed like it was taking place in the 1950s, my coworker Julia, the rockabilly, explained to me that she doesn't really get paid to work in the gallery. In her everimproving English, she told me that for everyone involved it is a labor of love.
For further information, please write to mkraus@stanfordalumni.org
Top of page